"Virtual commissioning has become a success factor for us"
Interview with Jörg Thomas, Chief Technology Officer (CTO) Klotz GmbH.
Klotz GmbH is a company with headquarters in Kötz near Günzburg (Germany) and a location in Shanghai (China) - which has specialized in the construction of test benches and assembly systems for automotive steering systems used worldwide for over 30 years.
In recent years, Klotz has built up extensive expertise in electrically assisted steering systems and now offers, among other things, test benches and assembly systems for rack and column EPS systems and their components such as sensors, motors and powerpacks.
The company works closely with its clients - to develop customized plant solutions that meet the exact requirements of the customer and the industry in question.
In addition to special machine engineering, technical software is one of Klotz's core competencies. With "KinRig", the company has created a flexible product that implements automation and testing tasks quickly and in a standardized manner, enabling greater efficiency and productivity in production.
Klotz's extensive software expertise also includes virtual machine commissioning. Over the past 5 years, the company has developed an extensive model library that allows digital twins of plants to be built extremely quickly. Today, the name "Klotz" is often synonymous with automatic end-of-line, performance and durability testing and assembly lines in industrial production. Over the years, the company has earned its excellent reputation and is now considered a reliable and innovative partner of the automotive industry.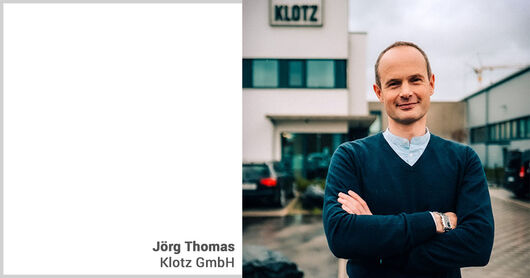 How has the use of fe.screen-sim changed the workflow in your company?
Thomas: By using fe.screen-sim, we were able to improve the workflow significantly: Around 90% of the plants can now be commissioned virtually, which saves time and costs. The software makes it possible to identify and rectify any problems that may arise during the planning phase – which optimizes the efficiency of the projects.
Likewise, the quality of the PCL software has been increased, as automated tests can be performed without putting people at risk. Error analysis can be performed in a professional development environment, which extremely speeds up the troubleshooting process.
In addition, the use of simulation software shortens the actual commissioning time – including on-site commissioning times at the customer's facility - enables code adjustments during plant relocation, increases flexibility and saves costs.
In addition, home office commissioning further increases flexibility. Virtual commissioning also enables early detection of errors in design and construction, which saves time and money and maximizes product quality.
Another benefit of using virtual commissioning is that it has significantly improved collaboration between departments within the company: The ability to have all departments working together on one platform at the same time has broken down silos and made collaboration much easier. This leads to improved communication between the individual teams – which in turn leads to a more effective and efficient way of working.
Do you commission each plant virtually?
Thomas: We aim to commission around 90% of the plants virtually. The goal is to perform commissioning faster, safer and more cost-effectively. This is possible through the use of fe.screen-sim and a large proprietary model library for fast mapping of the plant models. However, there are exceptions, especially for plants with too complex external interfaces or too simple small modules, where no virtual commissioning is required. In principle, however, the aim is always to use virtual commissioning to optimize the workflow and improve product quality.
What is the level of automation in the creation of virtual models?
Thomas: The level of automation in the creation of our virtual models increases with each project. Klotz has developed a large library with more than 800 standard objects and plug-ins to enable the automated virtualization of CAD models. The CAD data is automatically compared with the Klotz library and the plant models are generated fully automatically. What used to take an employee a week in the beginning is now done in three minutes. This is especially true for plants that mainly consist of standard objects.
The degree of automation depends on the type of project, but Klotz strives to constantly increase the level of automation in order to increase efficiency and improve the quality of the work. Klotz is continuously working on developing more automation tools to support automation and reduce the time to create the virtual model. The fe.screen-sim API is essential for this.
Which interfaces and data sources are used?
Thomas: An important data source is the CAD data from Autodesk Inventor, which provides an accurate geometric representation of the objects and describes their physical properties. We also use documentation on the actuators and sensors to obtain additional information on the behavior and properties of the objects.
For the simulation process, we use various interfaces such as TwinCAT to establish the connection between our simulation software and the "KinRig" developed by Klotz. Depending on the robot, the appropriate interface is also used here.
In addition, we use interfaces to databases, TCP/IP, UDP and FTP – to retrieve and process data from various sources. We have developed some of these interfaces ourselves to meet the specific requirements of the simulation.
Overall, these interfaces and data sources allow us to accurately and comprehensively simulate our VIBN system. We can test different scenarios and analyze the behavior of objects in different environments to make optimizations and improve performance.
What main advantages do you see in the open SDK/API and how do you use it for modeling?
Thomas: I see many advantages in the open SDK/API for modeling, especially for the flexibility and the possibility for custom programming. With the open SDK/API, we have the ability to develop our own interfaces and write plugins or SceneObjects to extend our modeling.
Another advantage is the possibility for automation, which is increased by the open SDK/API. We can automate our processes, saving time and resources.
In terms of the API, it allows easy access from the outside for part handling and automated testing. The API can also be used to connect external software to optimize the workflow.
In summary, the open SDK/API provides many benefits for modeling, including flexibility, automation, custom programming, and the ability to integrate with external software. We use these benefits to streamline our processes and improve the performance of our modeling.
Where do you see trends in digital engineering, especially in your company?
Thomas: There are many trends in digital engineering that also play a decisive role at Klotz. We see virtual commissioning and pre-acceptance as important developments that help us test and optimize systems and processes before they are physically implemented. This allows us to save time and costs as well as make our workflow more efficient.
We also use AI technologies and data analytics to process data and identify patterns – to then in turn optimize our workflow. This helps us improve our performance and efficiency.
Another fundamental development is automation, which allows us to automate processes, saving time and resources. Likewise, it enables greater accuracy and reliability in our processes.
Finally, standardization is a major trend in digital engineering, enabling us to optimize processes and systems and increase compatibility with other systems and processes.
At KLOTZ, we see these trends as important opportunities to optimize our processes and systems and continuously improve our digital engineering capabilities. We integrate these technologies into our way of working and work to continuously improve our skills and competencies in these areas.
Your personal contact person – for more clearness
You are a project or department manager and are faced with the question of how to set up a digital twin for your project? We would be happy to talk to you personally about your requirements, the time frame, the possible project approach and give you an initial cost estimate.