Virtual commissioning: efficiency increase and process optimization through direct data import
Especially in times of increasingly complex processes and short project lead times, many companies have recognized the advantages of virtual commissioning in terms of the associated time and cost savings. Consequently, the main objectives in the creation of digital plant twins represent an efficient design of this process as well as the use of corresponding synergy effects. The possibility of directly importing CAD data into a simulation tool is a decisive building block for increasing the efficiency of virtual commissioning.
Native connection creates loss-free data import
The flexible integration of existing data from mechanical design not only minimizes the time required for virtual commissioning, but also enables loss-free data import. To avoid information loss, a native connection of common CAD systems to the simulation software - such as fe.screen-sim - is of decisive advantage. This allows data to be imported directly into the simulation tool. The previous conversion into an intermediate format, which is often accompanied by a loss of information important for model creation, is thus not necessary and it is ensured that the digital twin contains all data of the later real plant - i.e. represents a true-to-the-original model. Other positive side effects of the direct data import are the associated optimization of internal processes and the reduction of interdepartmental coordination efforts while ensuring the best possible flow of information.
Import of user-defined settings
Another important factor with regard to the native connection of CAD systems is the possibility of directly importing user-defined settings from the CAD data into the simulation tool. This creates the basis for later automated generation of models.
Use of all common CAD file formats with fe.screen-sim
The already mentioned advantages of direct CAD data import into a software for plant simulation also come into play with fe.screen-sim from F.EE: In the new release, the ways to use CAD data have been significantly expanded, enabling flexible and easy use of more than 30 CAD formats. The simulation tool now supports not only all standard formats - such as STEP, STEP XML, IGES, PDF, PRC, STL, U3D, OBJ, COLLADA, VDA-FS, IFC, gITF, but also manufacturer-specific data imports. In addition to the file formats XT, JT, NX, Solid Edge and I-DEAS from Siemens, Autodesk formats (Inventor, Revit, DWG, DWF, DXF, 3DS, FBX), CAD data from Dassault Systèmes (SOLIDWORKS, CATIA V4, V5, V6, ACIS) and from PTC (Creo, Pro/E) can also be embedded without any problems. The direct import of other common CAD file formats - such as VRML, 3MF, Parasolid and Rhino - rounds off fe.screen-sim's new range of functions.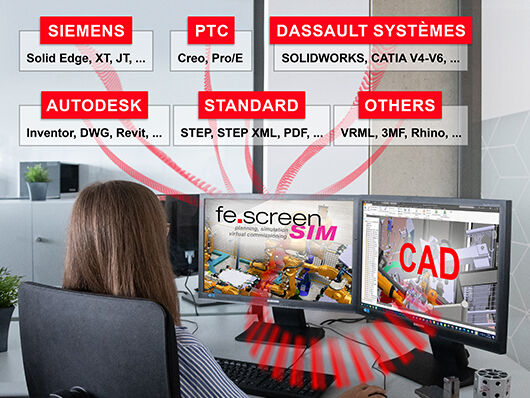 Conclusion
The direct import of CAD data into simulation software such as fe.screen-sim offers a variety of advantages that contribute to the simple, fast as well as flexible creation of a detailed digital plant twin and thus to a considerable increase in efficiency within the scope of virtual commissioning with simultaneous process optimization.
Your personal contact person – for more clearness
You are a project or department manager and are faced with the question of how to set up a digital twin for your project? We would be happy to talk to you personally about your requirements, the time frame, the possible project approach and give you an initial cost estimate.