fe.screen-sim: Bidirectional data exchange with "Process Simulate"
An essential prerequisite for achieving data consistency in model creation is the flexible use of existing data sources and their data structures.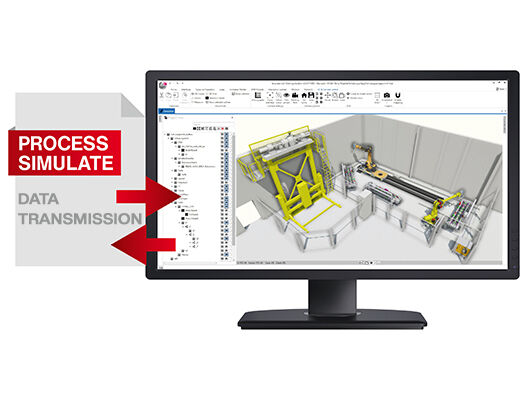 fe.screen-sim - the software solution for virtual commissioning and plant simulation from F.EE - now offers the possibility to transfer CAD data including kinematic information and defined degrees of freedom from the simulation platform "Process Simulate" in order to use them in the overall context of a model creation for the completion of the digital twin. The individual objects (actuators and sensors) and their properties can be read out from Process Simulate using the Tecnomatix .Net API and transferred to fe.screen-sim. In addition, the 3D data is converted into a readable format and also transferred to the simulation. Another significant advantage is the bidirectional data exchange. This means that changes made in fe.screen-sim are also transferred to Process Simulate and implemented there accordingly.
Your personal contact person – for more clearness
You are a project or department manager and are faced with the question of how to set up a digital twin for your project? We would be happy to talk to you personally about your requirements, the time frame, the possible project approach and give you an initial cost estimate.