Effective use of existing data sources to create digital twins
The increasingly complex engineering process in companies entails, among other things, a large and constantly growing number of software solutions. In addition to handling large amounts of data, the frequent lack of data consistency in the systems and tools used also presents many companies with major challenges.
The sheer volume of data and systems often leads to redundant data and may result in a large amount of outdated information - for example, because changes have not been correctly entered. Such information losses and media discontinuities also complicate model creation for virtual commissioning and cause avoidable costs. Nevertheless, when creating digital twins, it is important and makes sense to make use of data material that is already available in the process because, among other things, this results in enormous time savings. The possibility of using this data efficiently for model creation thus depends to a large extent on the range of functions of the simulation tool used.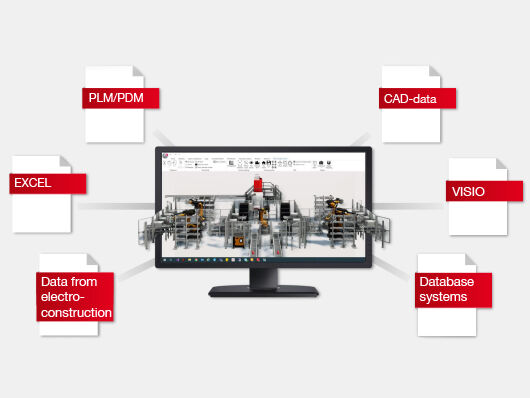 fe.screen-sim as a tool for effective data utilization
At this point, the simulation solution fe.screen-sim represents a central tool, which is able to take over data from various sources via a multitude of open interfaces and - if possible - use it efficiently for an automated creation of digital twins. This includes, among others, data from electrical design as well as CAD data. Furthermore, interfaces are available for the following systems:
PLM/PDM
Excel
Visio
Various databases
Conclusion
By using an interface for application programming (API - Application Programming Interface) that can be integrated into fe.screen-sim, it is also possible to integrate your own applications, tools as well as information into the simulation solution and thus "remotely control" it from the outside, so to speak.
Would you like to find out more about the possibilities of efficient data utilization in the context of virtual commissioning? Just contact us. We will gladly provide various examples and also transparently show how the digital twin in fe.screen-sim can be enriched with information via the API.
Your personal contact person – for more clearness
You are a project or department manager and are faced with the question of how to set up a digital twin for your project? We would be happy to talk to you personally about your requirements, the time frame, the possible project approach and give you an initial cost estimate.