FastCabWireTool – Tool for fast control cabinet wiring
See through the cable jungle! The "FastCabWireTool" sets new standards in control cabinet wiring. The application enables the virtual wiring of complete control cabinets and also offers helpful support for real production processes and activities. The tool can be integrated into the 3D simulation software "fe.screen-sim" or used as a stand-alone application.
The mode of operation
The virtual wiring within the "FastCabWireTool" is based on a 2D layout, a PDF file or a control cabinet photo, which is imported into the software. Afterwards, the individual cable paths are traced, whereby the application already provides an extensive database with various predefined wires as well as cable and processing types.
Already when drawing the cable paths, the automatic calculation of the required cable and wire lengths and the creation of a production list, which can then be imported directly into the corresponding production and assembly plants.
It is also possible to have the employees display the activities to be performed step by step on a monitor during the subsequent wiring of the control cabinet. This eliminates the tedious work with printed circuit diagrams.
In addition to the associated simplification of activities, the "FastCabWireTool" also provides automatic logging of work steps, as their execution is confirmed by the employees on the touch screen or PC.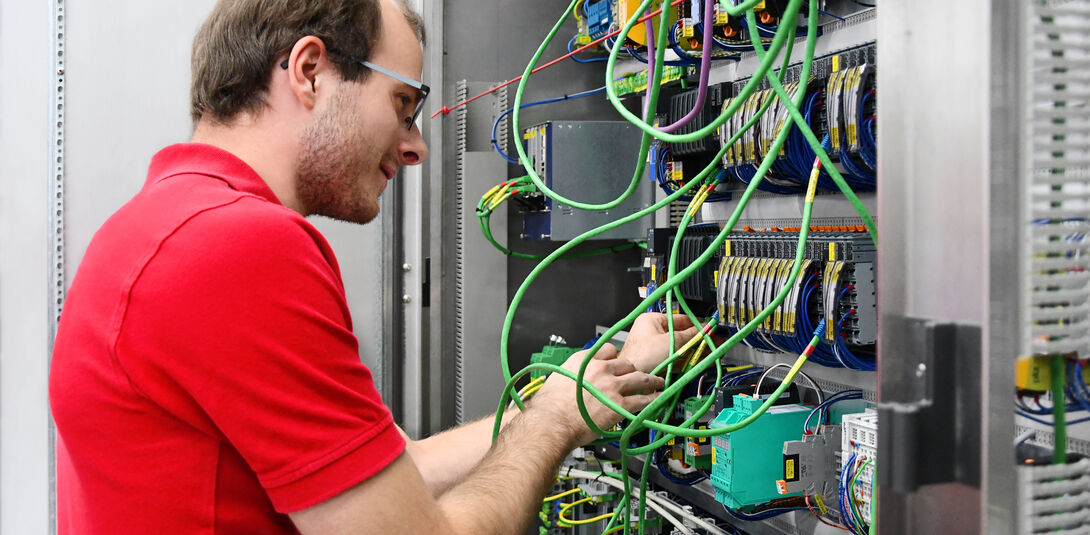 The advantages at a glance
Time savings in production – among other things, through automatic calculation of wire and cable lengths.
Simplification of work processes during wiring by guided work steps and elimination of circuit diagrams.
Minimisation of errors, as the activities to be carried out are visualised in detail.
Simple and automatic documentation of the work steps.
F.EE – Your partner in control cabinet construction
F.EE has an 10,000 m² control cabinet production centre. Here, approx. 4,000 running metres of control cabinets of all kinds are assembled, wired and tested annually: Individual cabinets, series cabinets, control consoles, control boxes and terminal boxes from planning to design and in compliance with the standards and regulations for control cabinet manufacturing.
Control cabinet construction services
Vendor consignment stores.
High quality standard through test field and function simulation, if necessary also including fieldbus test, device pre-parameterisation etc.
Fixed price or unit prices.
Construction according to specification including test protocols, parts lists etc.
Special housing or special colours.
Many years of industry knowledge regarding customer and country regulations.
Customer certification of our control cabinet production is possible.
Possible manufacturing variants:

Project production: F.EE takes over the engineering completely.
Customized production: Engineering and, if necessary, provision of materials are carried out by the customer.